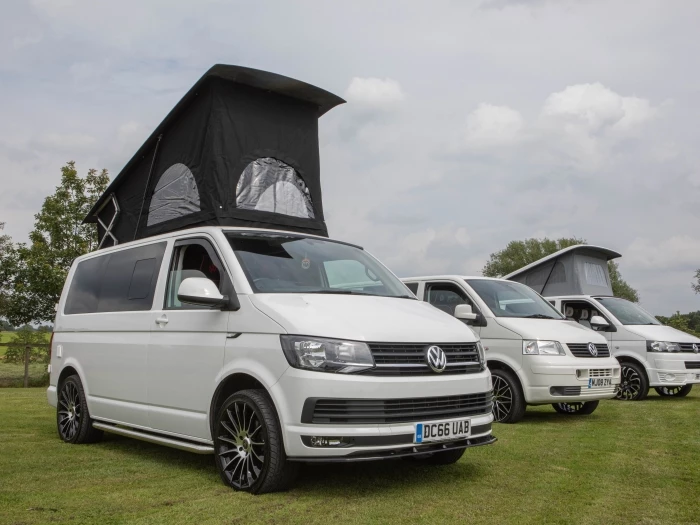 Converted campervans are ideal for holidays and travel in both the UK and abroad. But choosing the right campervan for you can be a problem, especially if you have never owned a camper before.
Before deciding to invest in buying a home-from-home van, it's a good idea to consider exactly what you want from it and how you intend to use it.
Like caravans, converted campervans do not come in all shapes and sizes. They are, for the most part, built on the typical box-shaped panel van manufactured originally as a light commercial vehicle.
Actually, the shape and dimensions of a commercial panel van are very well suited to conversion to a leisure-style vehicle. There are also plenty of accessories such as sinks, cooker hobs, cupboards and beds to help fit them out in style.
Indeed the range of optional accessories is so vast it becomes necessary to sit down and do some thinking and planning about the layout that suits your needs before setting out to buy a camper.
Vdub Campervans builds vehicles with internal layouts that suit the needs of most people, but they can also shape custom-designed vans to your exact specifications.
What is the campervan for?
The first thing to do is to set down the must-have items that your ideal campervan should have. To do this, you need first to appreciate precisely what the vehicle is to be used for. Answers like 'going on holiday' will not be enough. The questions to ask are 'what sort of holidays' and 'how long will they last'. Clearly, every holiday will not be the same, but you need to gauge an understanding of what type of holidays you prefer. Some people are like butterflies, flitting from one destination to another. Others prefer a long-stay base with short exploratory day trips. Each type of break will have different demands. Some may use the campervan for little more than overnight sleeping, venturing out each day for cycling or walking, while others intend to stay close to the van, do lots of cooking and relaxing. It may help to imagine a typical day of your holiday, from rising in the morning to going to bed at night and imagine how you are most likely to spend your time. It is then a case of determining what the campervan must-have if these needs are going to be met. If you intend to eat out a lot then cooking facilities may need to be basic but if your campervan trips are to include working, then a computer desk could be a top priority. The important thing is to end up with a 'must-have' list that can form the basis of your campervan buying decision. A vehicle may look fabulous, but if it doesn't have the basics, it will be a disappointment, or you may have to spend more cash than you intended to have it refitted to your requirements.
Who is going to use the campervan?
It's vital to establish who is probably going to use the campervan the most. Many customers are newly retired and looking to buy a van that will enable them to travel relatively cheaply. A camper with a double bed will be perfectly adequate to their needs. Others intend to invite children or grandchildrenalong, and they may need to think about an awning or even storage for a separate tent so that more can enjoy overnight stays. Make sure you know how many travel seats and beds you will need for your holiday trips.
Where do you plan to go in the campervan?
This can be an important consideration if you plan to travel in Europe for much of the time. You may wish to consider a right-hand drive vehicle, so it is easier to drive abroad. Side doors of a campervan with a European layout will be on the right side, not the left which can be handy when parking. Most Europeancountries require that everyone must wear a seat belt when on the road do make sure your vehicle has enough seat belts. It also a bad idea to travel seated sideways as whiplash injuries can be much worse. If you plan towander off the beaten track, it is best to avoid larger vehicles. A smallercampervan can cope better on rough roads and tracks. They are not only easier to drive off-road, they are also less likely to get stuck.
What type of campervans are there?
There are many types of vehicle that are suitable for conversion to a campervan. The most popular and versatile is the VW Transporter and Crafter series of vans. These mid-range vans are well built with reliable engines and excellent fuel economy. They come in a range of sizes, all which lend themselves to conversion and which provide enough space for two people without the need for extra awnings or tents. Compact, reliable and with good performance on the road they make fine campervans even for long trips.Pop-top versions let you stand up inside the van when it is stationary. The roof can be dropped when driving, and you won't be bothered by height restrictions in car parks and camping sites.
Handy campervan extras
The great advantage of custom-built campervan conversions is the opportunity to add features that make them unique. These will not be 'must-have' accessories but will be items that make a campervan more fun to live in and use. So the next thing to do is to draw up a list of handy extras that are likely to improve the quality of the campervan experience. These are items that you would like to see included in any campervan conversion but could do without if pushed. If you prefer to travel light then storage space, always at a premium in a compact van. Could be sacrificed something more useful – a sound system perhaps or a bookcase unit. If you need to use the van for work then USB charging points could be a big bonus of if you love music then a CD storage rack could be just the ticket. It's a good idea to ask yourself what things mightcome in handy, but you could live without if push came to shove. Many find itdifficult to remember that a campervan is a single room home and a very smallroom at that.